Managing Your Brand's Online Presence & Information Has Never Been Easier.
With our full-fledged business and voice search listing services, you can manage your brand's information across 70+ websites, all from a single source.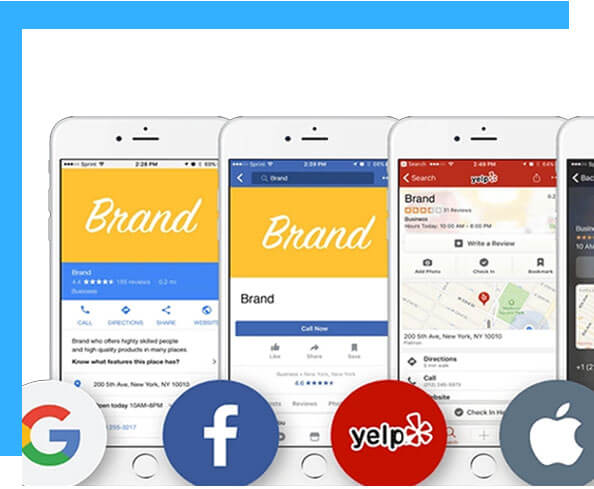 Enjoy unmatched distribution of information to Facebook, Apple Maps, Google My Business & 100+ third-party applications, social networks and maps.
All you need to do is click a button and all the information on different websites will be updated automatically.
Stand out from your competitors & convert
Stand out from your competitors and attract maximum consumers with rich data all across the web. Show text, videos and images of your menus, bios as well as products and update anything and everything all at once across 70+ leading sites, social networks and apps from a single source.
Adapt in real time. Automate the Entire Process.
Businesses change their information all the time. Whether it's a special discount you are offering or a new bio you want to update or a new store you recently opened or your updated contact information, you can update all of it on different websites at the touch of a button.
Say no to bad information and customer frustration! 
Optimize Your Business for Voice Search
50+% searches are voice searches.
Devices and applications like Google Assistant, Alexa, Microsoft Cortana, and others are used by an ever-increasing number of people to carry out complex searches. For Example: "Alexa, I'm looking an Indian restaurant, near me, that is currently open and serves Punjabi".
With Local Services USA business and voice search listings services, you can easily update all of your business information on different search engines (textual or voice) on the World Wide Web, so that your potential buyers come across your business with ease.
Say Hello to Direct Connections!
2.7x More likely to be considered reputable
50% More likely to lead to a purchase
70% More likely to attract location visits
Complete business listings get 7x more clicks than empty listings!
What's the pricing structure for business and voice search listings?
We offer the most affordable pricing structure globally. Subscribe to our service for $50 each month or just $900 for a single location. We also offer bundled packages as well as special discounts for multiple locations.
Your business information will be stored on more than 70 directories or high-profile websites, and you can update all of it, depending on your requirements at the touch of a button.
You can update business contact info, team bios, address, products, menus, coupons, coupons, and so much more. Also don't forget the images and videos. 
With full reporting dashboard, you can view and access clicks and views across different sites plus review status.
Got more questions?
Our experts are waiting to hear from you.
Contact us TODAY!
Manage and update your business information on 70+ different high-profile websites and business listings from a single source with Local Services USA's top-notch Business & Voice Search Listing service.
Say no to irrelevant information across different websites that often leads to miscommunication and a bad impression in front of your clients or target audience.
Contact one of our experts TODAY!
Our Experts are Ready to Help!
Connect with one of our Local Experts today and discuss your requirements. Free advice.
Want to connect with a marketing expert? Dial in!
Business and Voice Search Listing
It wasn't until recently that people started using voice searches. It has not always been so crucial, even 2 decades ago in the early 21st century. Today, it's hard to walk a mile without coming across someone using a voice search query on their device. Businesses that optimized their websites well for voice search have prospered for some time.
Nowadays, people use voice searches more frequently than search engines, which require long-tail keywords, and precision and also benefit local businesses more. Businesses now have relevant and relevant online listings for search engine visibility. It is arguably true that in the next decade, voice search will be the order of the day.
Aside from optimizing one's business for visibility might be tasking, it is worth the head scratch and the try. Voice Search is the next big thing that will continually hit the online market hard. Amongst the number of home devices used for voice search, other top brands include; Google Assistant by Google, Siri by Apple, Alexa by Amazon, Cortana by Microsoft, and Bixby by Samsung.
The unavoidable truth is that businesses and online marketers have begun to capitalize on the potential advantages of voice searches for their brands. They know that Voice search will likely win out since it is quicker and more practical than typing out queries on search query icons.
The new big thing is Voice search which will continue to exist. However, to know the most relevant skills to apply and the best ways to approach them, we must pay attention and undertake research analytics on SEO and voice search. For the sake of your search, a lot of information has been compiled; how about we move forward?
What is Voice Search in SEO?
Instead of inputting terms into a search bar on any search engine, users can make searches using voice search, a speech recognition tool. It allows users to make use of text-to-speech tech with the result of corresponding feedback from the web. Voice search is becoming more popular as smartphones and other compact, web-enabled mobile devices become more common today.
Keyword and phrase optimization for voice assistant searches is known as Voice SEO. Some SEO professionals claim that voice SEO is necessary for websites to appear in search results for voice assistant searches correctly. Typically, voice search inquiries contain a lot of inquiry words. To make your query more useful for voice search, you should include keywords like why, where, how, what, and when.
Long-tail keywords make more sense for voice searches, as was already mentioned. Therefore, you must never disregard the long-tail versions of the keywords for any reason whatsoever. People's lives have been made easier by voice searches, so websites must make their content voice search-friendly.
The ability to search the Internet, a website, or an app using voice commands is known as Voice Search (voice-enabled or voice query). As used by some home devices, Cortana, OkGoogle, Siri, and Alexa, voice search is broadly defined to include open-domain keyword queries on any online information the searcher needs.
Sea eligendi comprehensam in, lucilius ocurreret vim ne, ne quo justo explicari. Cum ad summo definitionem, liber diceret petentium id his, sit diam case molestiae ea.
Marie Young
Sea eligendi comprehensam in, lucilius ocurreret vim ne, ne quo justo explicari. Cum ad summo definitionem, liber diceret petentium id his, sit diam case molestiae ea.
Jack Young
Sea eligendi comprehensam in, lucilius ocurreret vim ne, ne quo justo explicari. Cum ad summo definitionem, liber diceret petentium id his, sit diam case molestiae ea.
Hanna Young
What is a Voice Search With Examples?
Voice search supports open-domain keyword queries on any online information. It is frequently interactive, which mainly includes numerous rounds of dialogue that let the machine elicit further information and attend to the searcher's needs.
Voice search enables customers to find relevant information on the web with equal responses to their queries. This is why voice search in SEO is crucial, and it helps businesses effectively position their content well for easy reach by visitors.
Types of Voice Search Queries
People use voice searches for different reasons but knowing how to position your content well is a function of first being aware of how users ask their queries. Doing this makes it much easier to tailor local search content well for better accessibility. Customers use voice searches to:
● Find out opening hours.
● To get directions.
● Get an address.
● To get phone numbers.
● Find out how far a business is
And all these queries range from 41, 44, and 45 % on research.
Search engines compile the responses to these typical search queries as Featured snippets. This facilitates the process of finding better content. Also, Long-tail keywords are another crucial component of effective voice search queries.
Although they can be more challenging to optimize for, these complex questions can significantly impact your company's success. The majority of local search inquiries fall into one
of two categories: Direct queries and Discovery queries.
Customers that make direct inquiries want to take a specific action or learn more about a particular company. They need better information on your business, so you must constantly update it. Google my Business is a great way to optimize your content and add the information required for better visibility.
In this instance, the customer is already familiar with your brand. Direct inquiries require your company's contact and business information to be currently online. Customers cannot reach out
to you using voice search if you don't put your phone number online.
Examples of direct queries are:
"Make a reservation at Lunch Inn Ashdale street."
"Book a table at Fries House."
Customers are seeking a particular business category when they do a discovery query. They typically utilize local voice search to identify businesses in their neighborhood when they are looking for a specific kind of service.
Discovery queries help find local businesses that equally favor the researcher and the Business. Depending on local search and SEO, consumer responses to discovery questions will be automatically computed.
Examples of discovery queries are:
"Find a bathroom renovation company in Hoboken."
"Which breakfast inn is the best in Dallas."
Knowledge query is the third query category in which clients seek an answer to a particular question. Your company might generate content around frequently searched questions or topics with a more sophisticated local SEO approach to generate leads and traffic on the web.
This tactic is a component of a more comprehensive content marketing plan that your company may decide to use. Knowledge queries take a lot of time because optimizing your content for such questions is not so easy to achieve. When beginning local listing management, the best course of action is to prioritize optimizing for direct queries and discovery.
Examples of knowledge queries are:
"How far is Summit from here?"
"What is the name of the first billionaire?"
To keep up with shifting trends, voice search demands effort as it constantly changes. You shouldn't be afraid of this technology because it can help businesses and customers connect thanks to the daily addition of new capabilities. The time has come for businesses to loosen up and speak up if they want voice search to influence their brands significantly.
Ready to Grow? Get your FREE Quote Today!
How Important is Voice Search SEO?
One of the current trends with the quickest growth is Voice Search. Digital voice assistants have ushered in a new era of voice technology. Our daily duties are now made more accessible by what appears to be a movie fantasy in our world.
For instance, voice search helps you achieve that even while directing you to your destination if you're in your car and need a particular location. With this, daily living has become a lot easier. You must execute voice search optimization to make your content voice search-friendly.
Voice SEO is essential when voice searches are fast rising in popularity. Speed, accuracy, and relevancy should be the candies topped on your content because nowadays, people need instant responses to their questions right away.
You must have been wondering how voice search optimization is a business strategy. Make sure not to pass up this fantastic opportunity to generate loads of leads for your business. Learn more about its advantages and how it helps increase your online presence.
● It boosts your online sales.
● Increases local traffic
● It aids in your acquisition of supremacy in search results
● It helps you stay different from the competition
It Boosts Your Online Sales
People are most likely to conduct voice searches when they are at the decision-making or purchasing stage. Therefore, if you run an online store or a business, being in voice search results could result in profitable sales prospects where you get to rank better after being optimized well on voice search.
Voice searches can be direct, discovery or knowledge queries used primarily on local searches in one's surrounding area. As a result, if you want to increase the size of your customer base, start by optimizing your content for voice searches, such as by placing your company high in local voice search results. This alone helps to boost local foot traffic and make you stand out.
It aids in your acquisition of supremacy in Search Results
Better voice search optimization is known to help websites rank higher in search results. When people discover the precise solutions to their questions, they are happy. Typing in search queries is time-consuming for those who multitask frequently. Still, when voice search has been adequately optimized for improved visibility, it helps deliver the most relevant result for the query, assisting your business to be at the top.
It helps you stay different from the competition
Not every business takes the opportunity to use this SEO approach. This is the best time to use it and rank well for better visibility when your prospective clients use voice search. It is great to get my leads from your competitors' traffic as it is still relatively new to most companies. Adding voice SEO to your campaign will help to attract more customers.
Discover how we can help your business.
The support was great and the team was always there when we needed them. We'll definitely be back for future projects as we continue to expand. Sincerely, from the heart, thank you for putting yourself in the work. We are so pleased with the results and we really appreciate the love you put in. I highly recommend you to anyone.
Just a short note to express how satisfied I am with my digital marketing campaign. I am extremely pleased with it. You've all exceeded my expectations and I'm excited to proceed to start running google ads now. We appreciate our partnership and have been really satisfied with the results of the work your team did. What a night and day difference from our last web agency. I'll be using you on all of my future projects.
Awesome work, our site's chatbot now looks almost human and very intuitive. Changed the order a couple of times, but it was fulfilled and adapted to what I needed each time. Project delivery including the reviews were all in a timely manner- this is such a great experience. Will always recommend for AI chatbot design.
How do I get listed on Voice Search?
Voice Search has significantly evolved due to the number of users and newly incorporated changes for better accessibility. If you're asking how to get your business listed and found, here are a few ways below:
How to Rank on Voice Search
When it comes to voice search, SEO is crucial since it enables businesses with quality content to rank well. You might be wondering how to use voice search to promote your brand on search engines. Utilizing the right tools and platter at hand is essential for accelerating the process.
Your content must be pertinent and concise to rank top on search engines. Search engines will get the content that best satisfies a user's request for specific information through a home assistant or a voice search medium.
The search results for a user looking for a nearby service provider are determined by the following –
What percentage of people use Voice Search?
According to reports, 135.6 million Americans use voice search capabilities, up 2.7 percent from the prior year. This indicates that over 40% of the US population, or around half of all internet users, currently use voice search (eMarketer, 2020).
According to the most recent voice search statistics, 38% of consumers who have experienced voice advertisements on smart speakers think they are less "invasive" (Adobe, 2019). Additionally, 39% claim that they are more engaged.
Over a quarter (27%) of all internet users worldwide use voice search on their mobile devices. (GlobalWebIndex, 2018). Furthermore, two-thirds of mobile voice search users are in the 16-34 age range, indicating that this age range is where usage is most prevalent.
Over the conventional way of typing, voice searches are preferred by around seven out of ten consumers (71%; PricewaterhouseCoopers, 2018).
Ready to speak with our experts?
Looking For Funding
$3,000,000,000
in funding Secured For Clients
Get Clients Through Our
$15,000,000+
CLIENT ACQUISITION DATABASE
Accelerate your ROI by
200-1000%
FROM OUR DIGITAL CHAT BOT SERVICE
Increase Brand Awareness with
2,200,000+
SOCIAL MEDIA & JOURNALIST ACCOUNTS
Is Voice Search the Future?
Google has encouraged authors to use structured data with voice search since 2016 and particularly in 2018 as well. Speaking structured data was adopted by Google, which also included Guided Recipes in the search panel.
58 percent of customers used voice search to find nearby businesses in the last 12 months. In addition to an increase in voice search users, more and more voice searches are being conducted, as 46 % of those users repeatedly use voice search to locate local businesses.
This tendency is likely to spread as more individuals become at ease speaking into their phones or sophisticated virtual assistants. Just look: by 2024, 8.4 billion digital voice assistants are predicted to be in use worldwide, making voice assistants the dominant species.
The Voice recognition market size was estimated at USD 10.70 billion in 2020. This market is anticipated to increase to USD 27.155 billion by 2026, growing at a CAGR of 16.8% from 2021 to 2026. This expansion in commerce, industries, technology, banking, and private home use is
being driven by virtual assistants.
Voice search will become more widespread and intuitive in the future.
Ready to speak with our experts?
How do I Optimize Voice Search?
With the increasingly nudging use of voice search queries, businesses that are now familiar with voice search look up ways to rank and optimize their brands for more visibility on voice search.
An excellent method to top off the cake is to optimize Voice Search for the business. If you know how to do it, this is a better approach to keep your competitors behind you. Alternatively, if you don't. A few magical yet simple steps are mentioned below:
● Focus on Rich Answers
● Use conversational language when writing your content, reimagine it, and restructure it to focus on long-tail keyword phrases.
● Increase Website Load Time
● Pay Attention to Mobile sites first
● Leverage Google Business Profile
● Content Readability Improvement
We are now aware of the vast numbers and percentage of voice search users if the goal is to rank well for better visibility. How about you ace and up your game with the earlier mentioned
simple steps.
SUBSCRIBE
& get a chance to
Join our customer database and you will be entered in our quarterly bonus giveaways!
How does Voice Search Affect SEO?
The typical typing-style searches that marketers have been accustomed to, such as "Beautiful paintings," are less common when users use voice. Instead, they phrase their inquiries in fuller terms, like "What are beautiful paintings?"
It supports the searcher and content having a clear intent. The resolve between people and material is the main emphasis of Voice Search Marketing. Whether creating content for SEO and voice search or being involved in other online articles, this is a crucial consideration. However, giving someone precisely what they want is what it's all about.
As long as you're descriptive and use natural tones and question words, your voice search will significantly impact SEO.
It is no news that Voice search is a great digital tool for businesses. It is becoming more popular every year and will soon be used everywhere. Voice search is a dialogue assistant that aids better results on demand for voice search queries. Many digital behemoths are already active to gain an advantage over rivals and have customized their services for voice search.
You may improve your voice search rankings and develop a solid voice search optimization plan using all the tactics described in this article. The market is continuously evolving, and the big dogs are getting ready for the following significant change in the field. To compete, it's essential to focus on voice search SEO and monetization.